Vanlife With Klean Kanteen Ambassador, Cal Major.
Van Life Paradise with Cal Major
Words: Klean Kanteen UK ambassador, Cal Major / Images: James Appleton
In winter 2021 I took my beloved Van on a road trip to Portugal and Spain, for sun, surf and pastel de nata. After a brilliant but ridiculously busy and fairly exhausting 2021, I felt the need to escape to warmer climes over winter. For me, Van Life represents the ultimate freedom, and a great opportunity to live simply, live outside and to reconnect with nature, and with myself
I didn't realise until I got to Europe how burnt out I had become. I was exhausted and stressed, and it took me the first month just to start to relax. Living outside was just the tonic I needed. Everything began to slow down. I was in the sea every day, whether to surf, swim or just a dip.
The First Stages of My Trip
My first stop was on the West coast of France. I arrived at the coast as it was getting dark. I woke up early the next morning, threw my dryrobe on and went for a stroll on the beach. I walked and walked and walked. I felt elated, peaceful, free! I was the only person on the beach for miles - I picked up as much litter as I could stuff into my pockets. It was cold, the sea full of energy; the waves were 15 foot and completely unsurfable but being there felt perfect nonetheless. I had nobody to answer to, nowhere to be. As I walked up the sand dunes back to my van, I bumped into another human. A French man, called Emmanuel, also living in his van. We got chatting in what I thought was pretty good GCSE French but was, in fact, offensively bad.
He explained to me that he had lived in his van for over a year, mostly in France. Today he would either go North to Brittany, or South again. He seemed completely unfazed by this upcoming decision. I asked him if it was hard deciding where to go each day. His response stayed with me throughout my trip:
"Only if you think about it."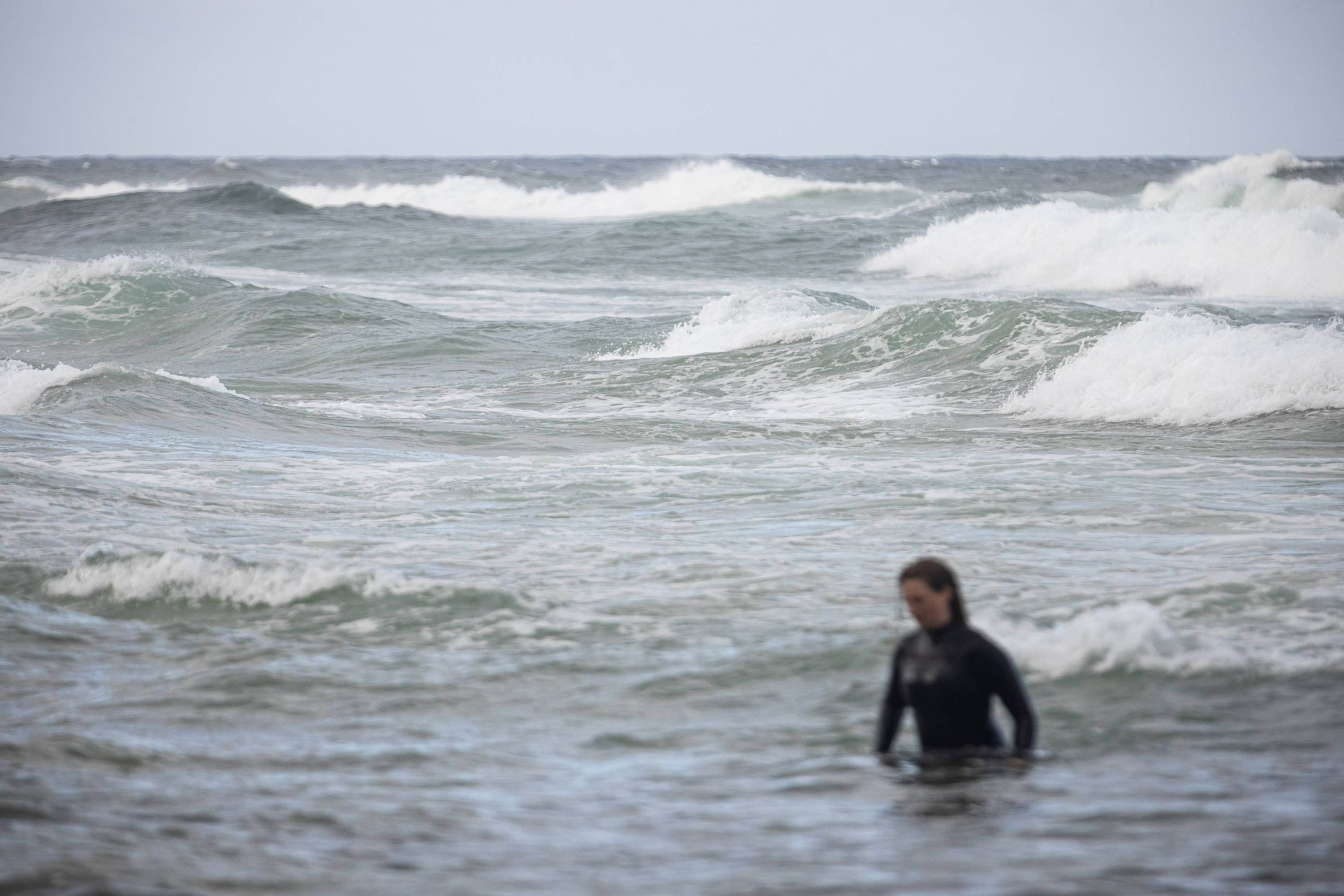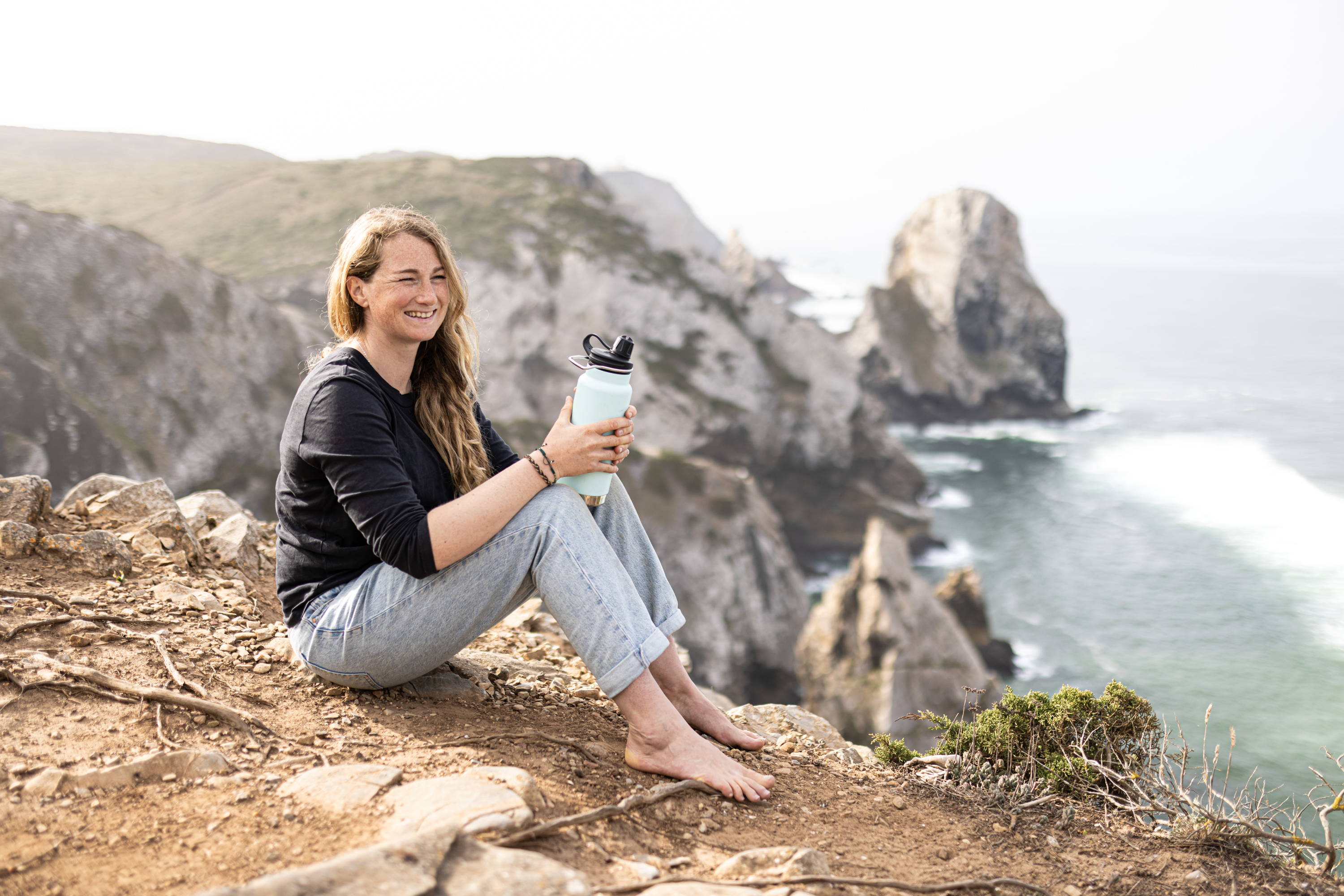 From this moment on I tried not to overthink where I went every day, and instead to listen to what I needed in that moment. It can feel overwhelming when you have the whole of Europe to discover but deciding to let go of that need for it to always be "perfect", and instead to enjoy where I was each day, was incredibly liberating.
Over the next few weeks, going to new places in Spain and Portugal, I began to relax. My life had been so unbelievably hectic before I left, and I found myself feeling really guilty whenever I wasn't working, prioritising screen time over outdoor time. This is so at odds with my beliefs! I advocate for time outdoors for mental health and connection to nature, but I realised I had lost the importance of my own health, and my own joy. Living had become about working hard, completing tasks, being productive, ticking items off the never-ending to do list. I had a massive project to complete and had become all consumed by it. My self-worth had become wrapped up in my productivity and ability to make positive change, which were ironically at an all-time low despite pushing harder and harder. It took me a while to start really valuing having fun again. But once I saw how all parts of my life improved, I started prioritising it.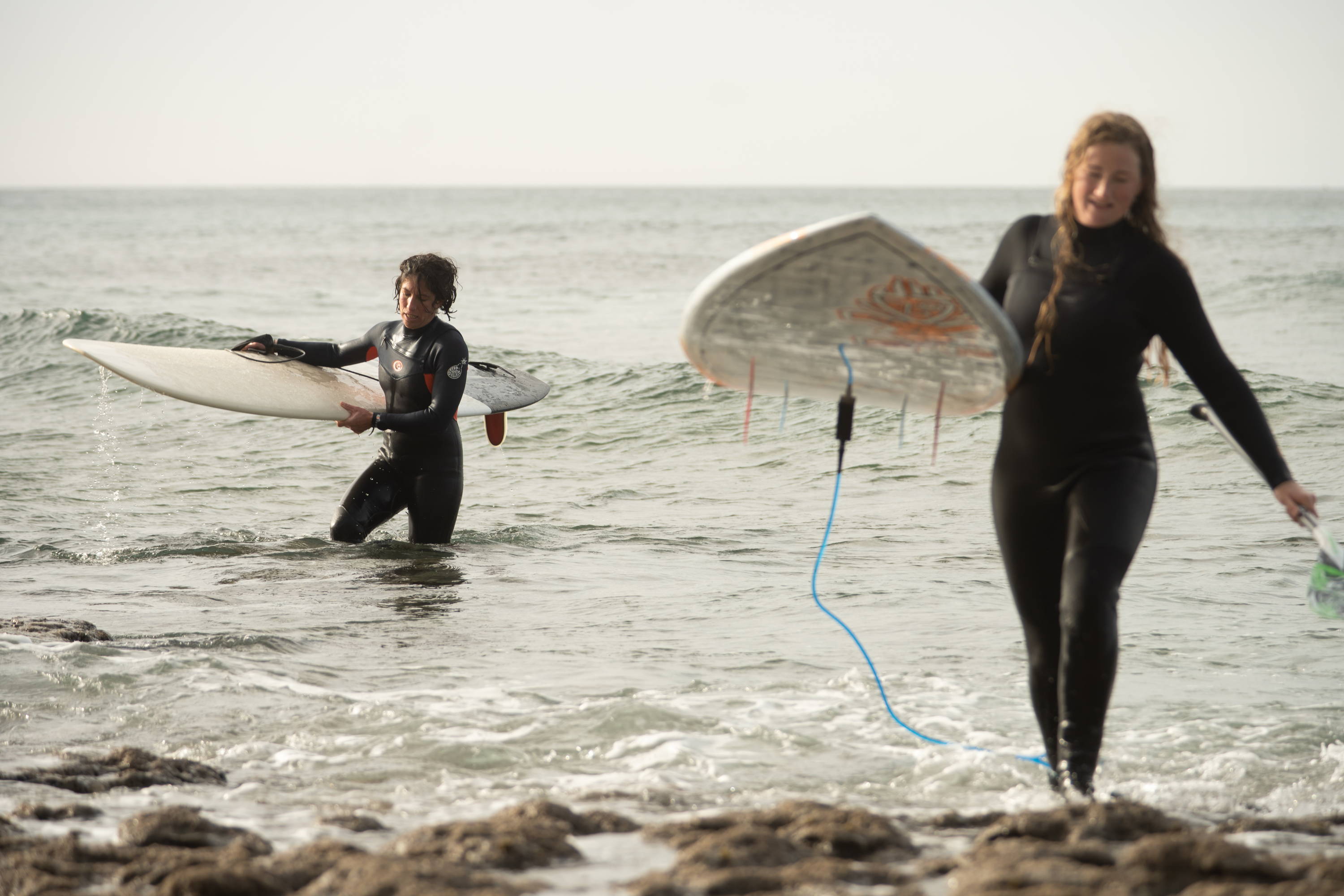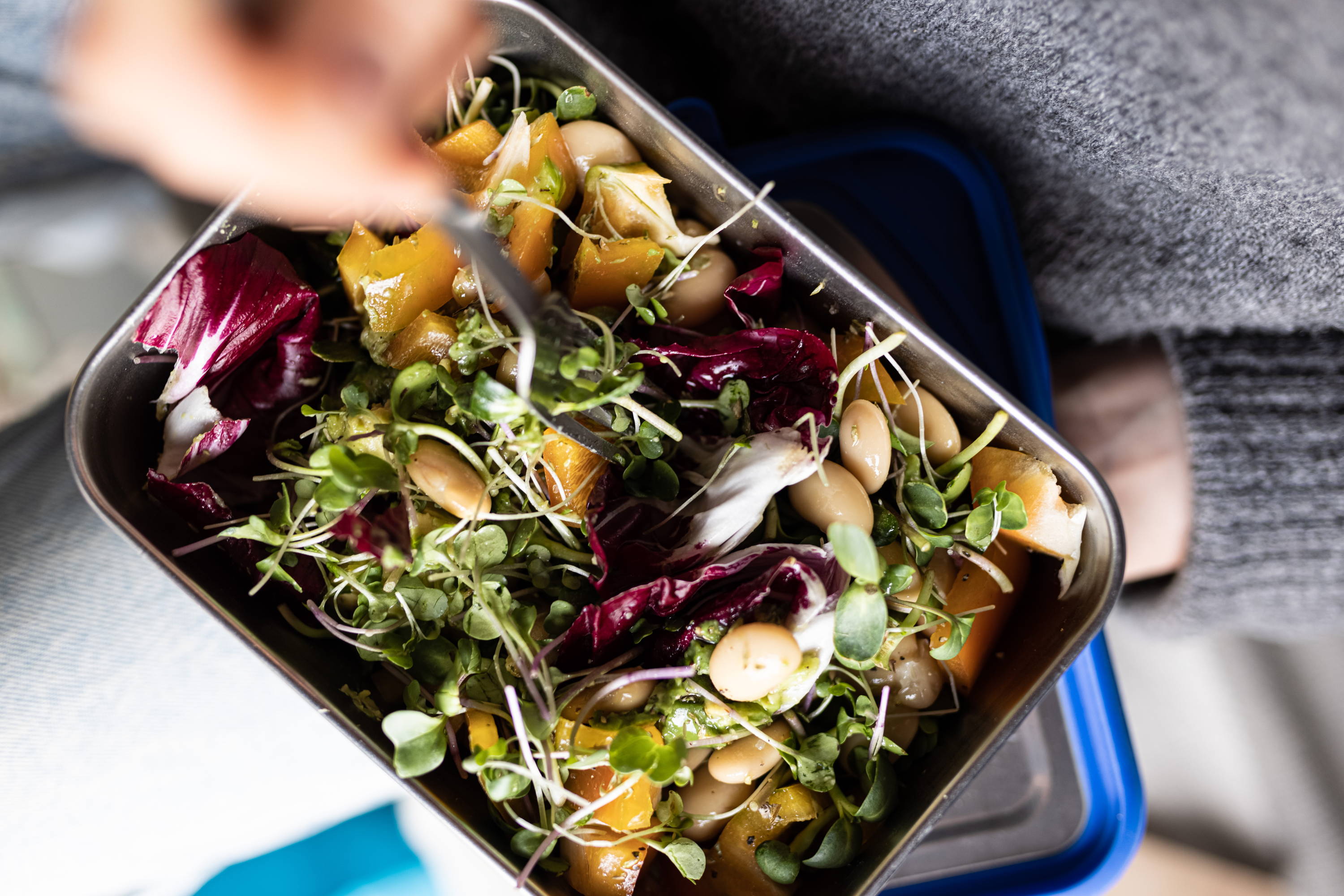 I want to help others enjoy this experience, so here are my Top Tips for Van Life:

Number one tip - take less stuff and take things with multiple uses. The less stuff cramping your space, the easier van life is.
Food and cooking. I took a selection of containers and bottles from Klean Kanteen. The containers I found most useful were my steel lunchboxes, which I used every day both for storing food and for doubling up as breakfast and lunch bowls. Bottles - I found my TKWide flask so handy for taking a brew with me on a walk, or when I was driving. I also really valued the TKPro - I would boil the kettle in the morning with enough water to fill up my flask for the day. The water stayed piping hot throughout the day, and this doubled up as a flask to take on a walk if I was going out for longer. The cup for my TKPro was the only mug I took with me. I also had a 32 oz insulated TKWide with a chug cap, which was my water bottle. One day I needed ice for my back after a long surf session, and I put the surplus I bought from the shop into my insulated TKWide. The next day I came back to it expecting water, and the ice was still perfectly formed and usable! It kept my drinking water cool when I went on hikes and was great for having in the van while I was driving.
Many countries, including Portugal, are really clamping down on wild camping in vans, especially within national parks, and the fines can be hefty. These rules are there to protect fragile ecosystems and make life more pleasant for campers and residents alike. There are so many decent campsites around Europe with toilets and water, some of which are in stunning places.
I was surprised at the lack of public toilets in Spain and Portugal. Please make sure your van is properly equipped. I use a bivvy loo and a SheWee and a bottle, which I empty when I find a proper toilet. There's just no need to use car parks or public spaces as toilets, especially in warm countries where things start to smell. Please, leave no trace.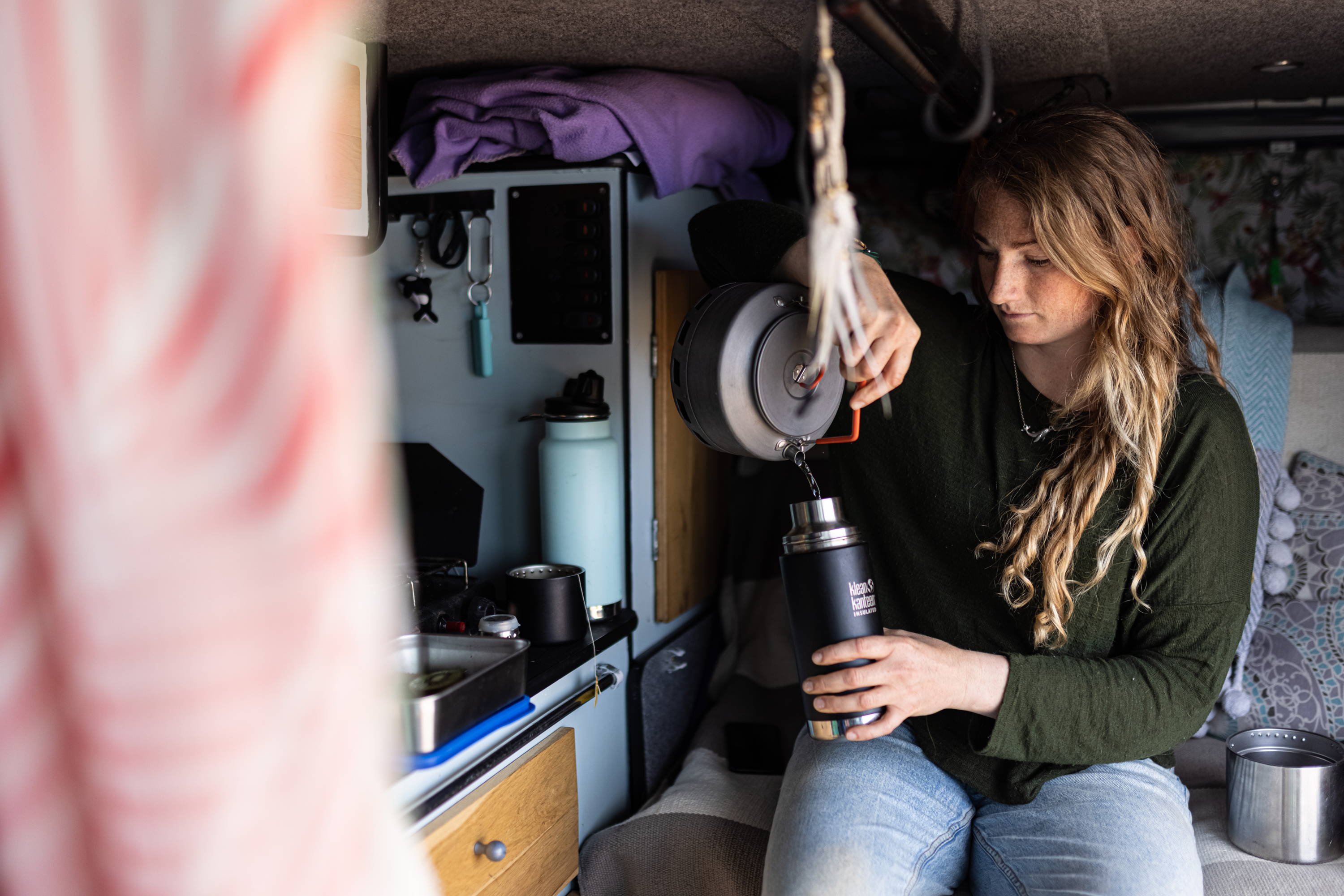 "During this trip, I began to realise that, for me, happiness and health are derived from being outside every day"

During this trip, I began to realise that, for me, happiness and health are derived from being outside every day, getting in the sea, taking a long, mindful walk on the beach every morning when I wake up, surfing whenever the conditions allowed it, reading books, spending time with friends and eating fresh, healthy food. Words cannot express the joy I found in these simple pursuits.
 I have come to realise that joy, happiness and rest and fun are not things to be earned through hard work. They are valuable parts of life, which also give life meaning. I think it's ok to find purpose through work, but I think there's a balance to be struck, and so often in our modern day, fast-paced society we are taught to value achievement above all else. I believe that time in nature, kindness, mindfulness, peace, fun, friendship and really good pastel de Nata can also offer meaning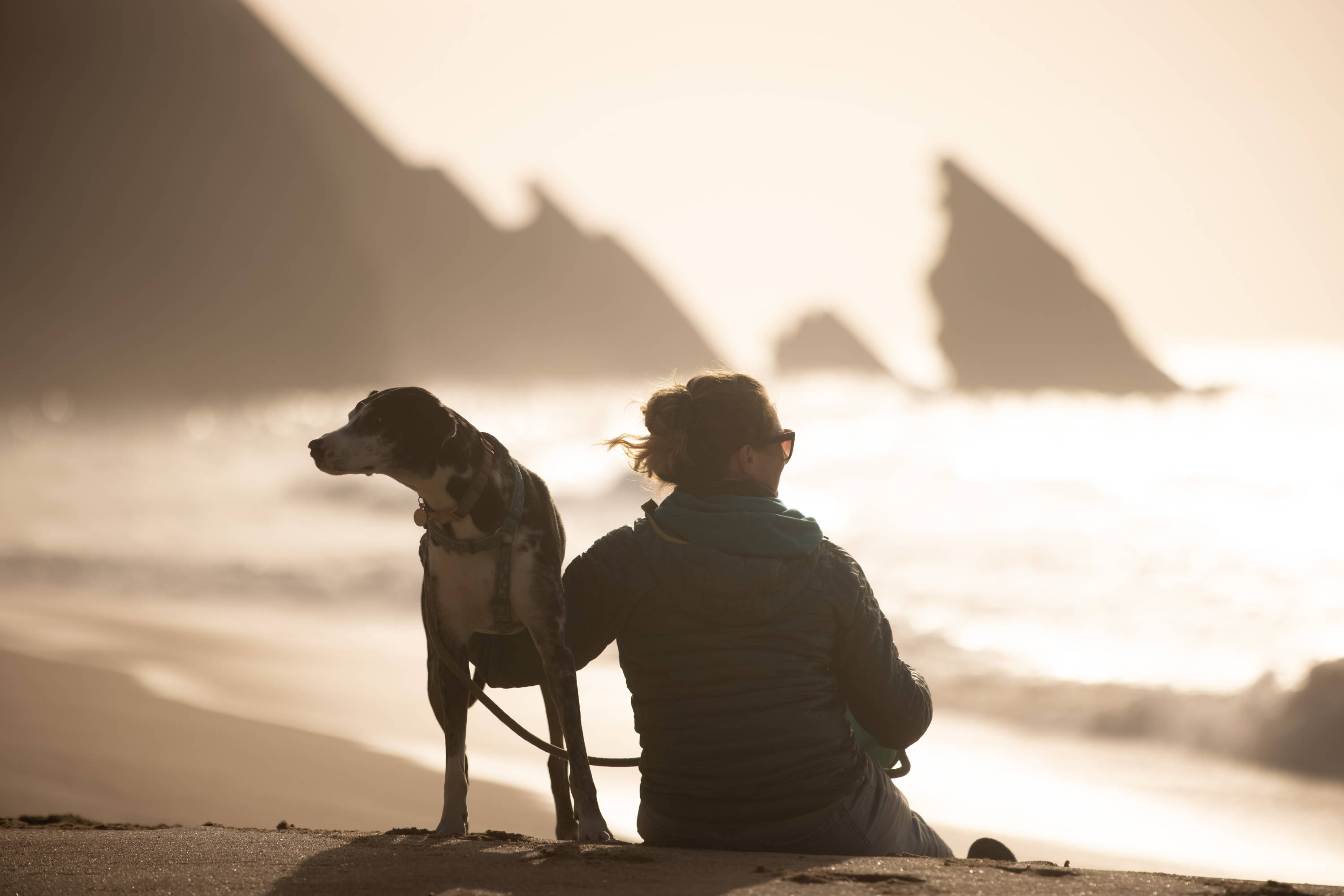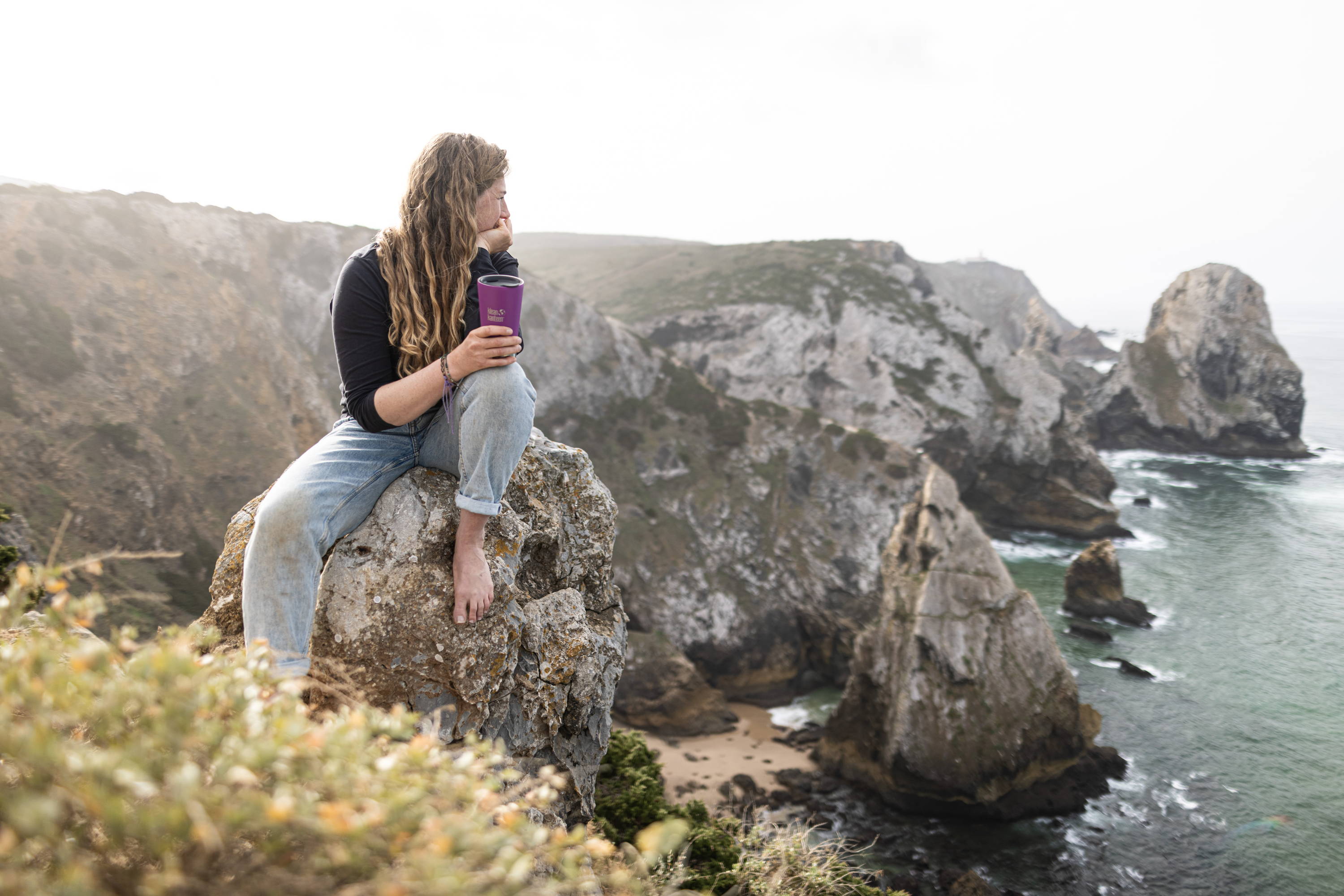 Here are my tips for slowing down and being present:
Practice mindfulness. This doesn't have to mean meditating for hours on end every day, although this can help. For me, the most powerful mindfulness comes from taking time outside and really being present to what is happening in the moment - the sights, sounds, smells. There is so much magic and wonder to discover in nature if we allow ourselves to be awed by it. I wrote a blog about the impact mindful walking has for me.
Be kind to yourself. Learn to listen to what you really need, trust your intuition. This took me a while, and I find myself slipping out of it very easily when faced with the noise of life and our society. But you know what you truly need in each moment, you have the ability to make decisions. Don't be afraid to acknowledge that. Start to listen to what your body or brain is asking of you. Sometimes that's to rest or to sleep. Sometimes it's to move, to eat, to call a friend, to go to the next place. Becoming your own best friend, treating yourself like you would treat a loved one, can be one of the most empowering things we can do.
Live in the moment. I found the more I reconnected to what was happening in the moment, the less I wanted to numb it all out. I found that my brain needed the space to process things and to be quiet, and it no longer needed things like Netflix or endless Instagram scrolling in any and every moment of down time. I slowed down significantly. I did less in a day but it felt like I was living a much richer life. I know this sounds really cliched but it was so powerful for me. There's a great book about this called "Do Less, Be More" by Susan Pearse and Martina Sheehan.
Drive slowly. Stop regularly, stay a while. Driving slowly uses less diesel. It is generally less stressful, and less dangerous. There's no need, or option even, to fit everything in, and I find letting go of that expectation allowed me to really enjoy the places that I did go to. Spending a bit of time in one place allows you to meet people, find the best local cafes or bakeries, support the local economy, and really get to know its treasures. Take the slow road and soak it all in.